Date: 26/09/2018
Team Secto take on Storm Ali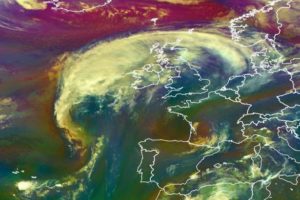 We are all aware of the damages storms can cause to homes, businesses and personal lives, but for Secto's team in the mobile department, storms bring a whole host of challenges.
Storms are unpredictable and destructive for short periods of time but very often it's the aftermath of the storm that causes the most inconvenience and leaves a trail of safety issues, electrical interruptions, network faults, transport delays – the list goes on, and often the reparations can continue for a few weeks after the storm passes.
Storm Ali
Storm Ali had a notable impact on Ireland last week, with Met Éireann reporting that gusts of 143km/h, 124km/h and 107km/h were recorded at Mace Head in Galway, Newport in Mayo and at Belmullet respectively.
Nearly 200,000 homes and businesses were left without power, particularly in the west and in north Dublin and the surrounding counties. Conditions were challenging, and the second day of the National Ploughing Championship was cancelled due to concerns over health and safety.
Many cases of fallen trees and cables were reported, causing damage and disruption, particularly in Galway and Mayo.
Secto Response Team Kicks in regardless of conditions
Secto's mobile department teams pulled together to mobilise generators around the country in the immediate aftermath of the storm. Secto got stuck into the thick of it, and even though life has mostly gone back to normal again for the public as Storm Ali has passed, the clean-up and final fixes continue, especially for Secto's riggers.

The Secto team worked tirelessly day and night filling and refuelling generators, particularly in areas where the storm hit the hardest, putting in the extra hours late into the night and at weekends to keep the service delivery running smoothly.

Secto's office based project managers and coordinators spent many late nights planning and managing the site teams. Following every storm, there is a thorough review so that any learnings can be shared an implemented to ensure that next time the response is even more efficient and that essential services are restored even faster.
Thank you to all of the Secto team for the special efforts during Storm Ali.