Date: 12/01/2022
Technical Services Good Catch Awards Q4 2021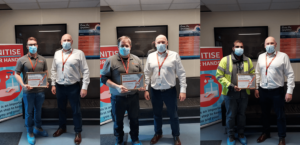 Members of our Technical Services team were awarded their good catch of the month awards for the last quarter by CEO of Technical Services, Connor Flanagan. Well done to Victor, John, Cameron and Narendra.
In Secto, we believe that all incidents and injuries can be prevented, and must be reported immediately no matter how small, if you need to put a plaster on it, report it!
If an incident isn't reported it cannot be investigated.
If it is not investigated it cannot be changed.
If it is not changed it cannot be improved.