Date: 8/10/2020
Data Centre Construction and Commissioning Project Update
Our team took a delivery of equipment for one of our ongoing Data Centre builds. Under the supervision of our SHEQ team and Covid Compliance Officer, they moved 81 pallets of equipment, varying in size and weight up to 2.4mts high and 495kg, on site and positioned each one on the first floor in a live environment as part of the build program.
All equipment had to be lifted by forklift through door openings 4mts above the ground. Although they encountered a few obstacles, they worked together as a team to solve the problems and overcome the challenges.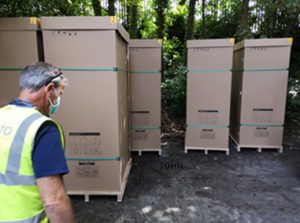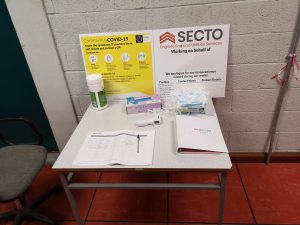 The team completed the commissioning on our first 125Kw Data Pod last month. It consists of two independent 75KW UPS units, 12 2.2mt IT racks 7kw each with four integrated 25kw air conditioning units all interconnected to complete a self-contained data centre unit.
Special efforts from the team were made in order to deliver this project in compliance with Covid-19 recommendations, and managing the logistics, install and commissioning of this Turnkey solution for our client.